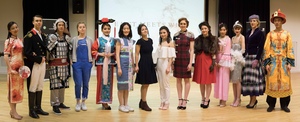 The Confucius Classroom collaboration opens doors for Leeds College of Art students Laura Henery and Nicoleta Ionescu, winners of the 2016 'Travel Broadens the Mind' competition.
Laura Henery (Fashion Design) and Nicoleta Ionescu (Fashion Communications) were the 2016 winners of the 'Travel Broadens the Mind' competition, which asked students to respond to a brief set by the Business Confucius Institute at the University of Leeds (BCIUL) to design their own modern take on the traditional Chinese qipao. See their winning designs in this Flickr gallery.
These designs have recently been on display to audiences at Leeds Town Hall and the Royal Armouries Museum. The shows at the Chinese New Year Gala and the Royal Armouries 'China: Eastern Warriors' week (click the links to view photos) highlighted the evolution of fashion in East and West throughout the ages, helping to demonstrate how influences from both cultures were combined to create the new garments.
As well as providing this platform for students to showcase their work, BCIUL also sent Laura and Nicoleta to China on the 2016 Summer Camp . This allowed them to experience the culture first-hand and also gain insight into the Chinese fashion industry through company visits.
Laura Henery said "I feel so lucky to be pursuing my dreams and challenging myself in every way possible. I will not pretend this has been easy because I have had to work relentlessly to achieve this but winning the competition; going to China; seeing my fashion show happen and all the people I recruited working together to make this a success… It has all been worth it. It is a really rewarding experience"
The competition is the final task in a module that encourages professional development and cross-cultural understanding through a series of workshops on Chinese language and culture, culminating in the final brief. It is hoped that the international perspective gained from these classes will provide all students with an edge when they begin their careers in the global fashion industry
I have learned a tremendous amount about China from this project.

Laura Henery, Fashion Design student and competition winner

Based on the success of the project, the College has plans to extend the collaboration to involve textiles students. Duncan Harrison, Programme Director for Fashion and Textiles, is planning a full day of immersion for his students focused on Chinese culture and language.
We're really pleased with the progress of the collaboration. The two students who travelled to China in July 2016 had a wonderful experience which will influence their work for years to come.

Jenny Oxley, Head of Internationalisation, Leeds College of Art
More about the Leeds College of Art Confucius Classroom
Confucius Classroom launch event (video)
Fashion students win a trip to China (Leeds College of Art news report, 1/7/16)
Leeds College of Art students flying high (BCIUL news report, 30/6/16)
Photo by Steve Evans (see his Flickr page)